Cruise Line Weddings

Being married on a cruise can be something out of a fairytale and a absolute dream come true.

A cruise wedding can also be a more affordable wedding than your tradition land based one.

Adding Lani Kai Photography as one of your guest will greatly expand the images you will cherish forever.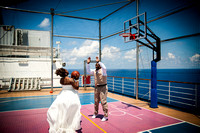 Golf at WeddingLarry and Amerah play golf on the Carnival Dream Wedding
Images that will show that other side of you, not just the romantic side.

And there's no denying those destination and beach shots you'll love!

I would love to talk to you to see how Lani Kai Photography can make your destination wedding photos a dream come true! Contact me here.

For more information on this subject there are a couple of great articles.

Click here to get tips on why a Cruise Wedding might be perfect for you.

Click here for some need to know information as well as some fantastic tip for making your dream Cruise wedding a reality.